Daily Specials Menu / Schedule System

This is an overview of our Emailing & Faxing System "Dashboard"

Create your Menu Item's Library
We created the only Daily Specials Faxing/Email System that allows YOU to create your own library of items, then create individual menus for every day of the week. Adding items is as simple as typing an email. Create a "Title" for your food item, then add a description. We format all the text automatically. (The menu set up process is the same for Faxing or Emailing)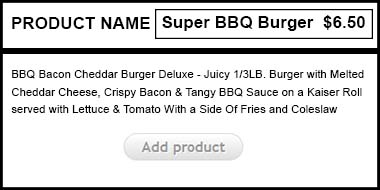 Once your menu items are added to your library, "Select your day" and create your menu. You can create menus the same day, day before, week before...even a month before you want to display your menus. Modify your menus at any time!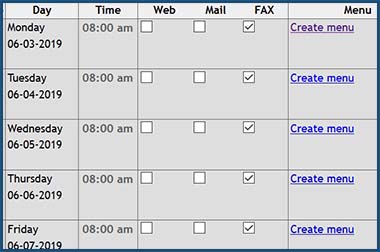 Simply "ADD" your item to the list for the day.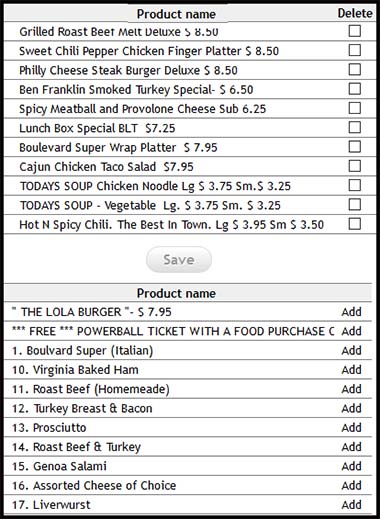 Once your menus are ready for display, you are finished. Our Automated system sends your Faxes and Emails at a time you decide, everyday. You don't need to do anything. You do not need a fax machine to send your faxes, we do it for you!
A commonly asked question....
Do I need to offer delivery or online ordering, to promote my Lunch Specials?
Promoting your Lunch Specials by Fax and Email has nothing to do with delivery or online ordering. While we will include delivery and online ordering info in your Fax/Email promotions, if your don't offer these services, your customers will simply order and pick up their orders as they do now. Your Daily Special's promotions get your message out to your customers so they know what you are cooking everyday!


Daily Specials Fax/Email Services
Call or write anytime and we will
be happy to answer your questions
Call: 973-934-0577 Email
Fax: 855-251-2312
Copyright 2019 i'm hungry now. All rights reserved.